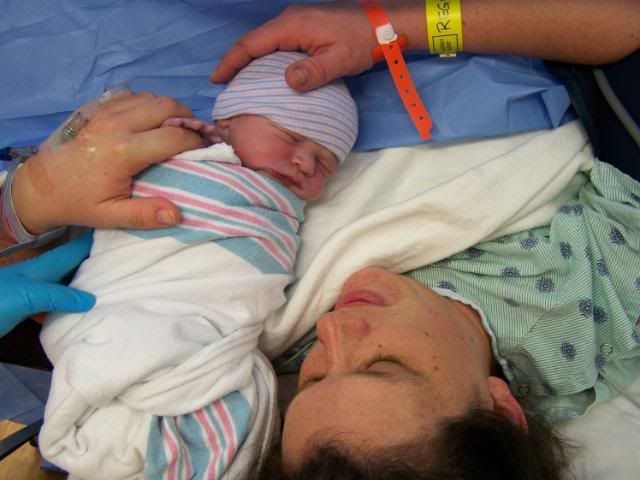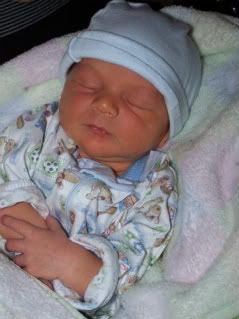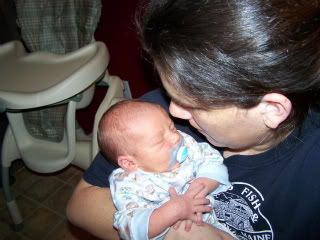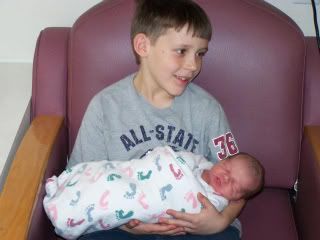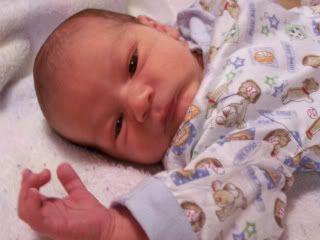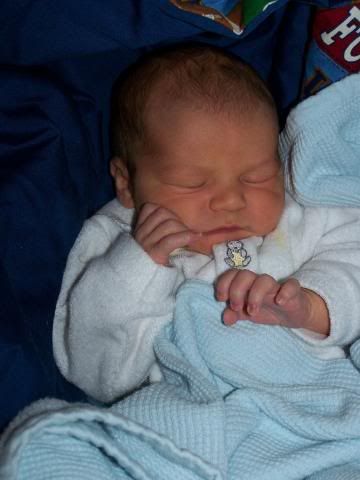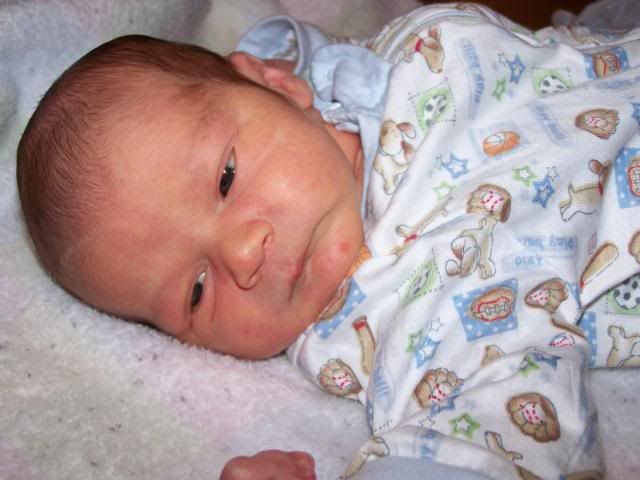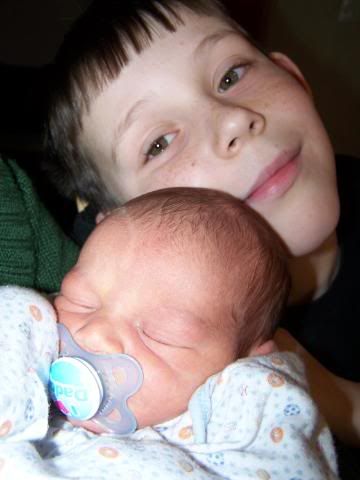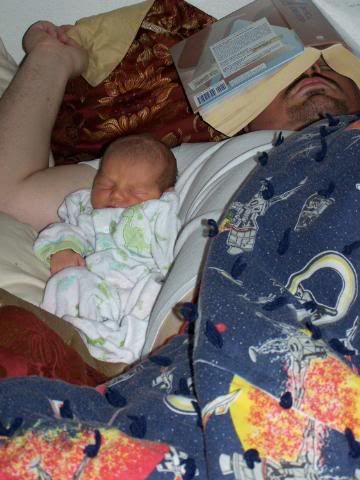 It wouldn't be our family if there weren't some sort of adventure involved in everything, including childbirth. Actually, there wasn't as much adventure in Little Guy's birth as there was with some of the others', but there was still plenty of fun.
I had been having irregular contractions for a few weeks that weren't really doing anything. That didn't surprise me since my contractions never do anything. On Christmas Eve around 8:30pm, they started getting really strong and a lot more regular. Eating, drinking, and laying on one side didn't help so I knew it was getting close. I really wanted to be with the kids on Christmas morning, though. So, I stuck it out. After they opened presents Christmas morning, I fooled around the house a little cleaning some things up and doing a few final preparations. Finally, around 11am, I told the King it was time to go. His parents were in town, so it was okay to leave the four big ones with them. I knew they were in good loving hands.
At the hospital, they monitored me for a few hours and gave me IV fluids to stop the contractions. That didn't help, but I wasn't progressing. So, after a few hours, they gave me the option of going home until the next morning or just staying the night. The doctor would have delivered him that day, but being Christmas, there wasn't much in the way of staffing there. And who really wants to be born on Christmas anyway?
I was torn about what to do. I wanted to be home with my kids and The King. (His parents were only in town for a few days and it was Christmas, so I'd sent him home). But the contractions were really bugging me and I knew I couldn't really have any fun anyway, so I stayed.
In the time I was at the hospital just waiting to have the baby, Snort pulled the Christmas tree onto himself and rumor has it that it took five minutes to dig him out of it. At that point, the King decided it was time to just put Christmas away. So, I guess I did pretty well to miss out on having to clean all that up, right?
The next morning, they came in and I told them which type of anesthesia worked for me and which didn't. I've done this enough times that they just trusted me and did what I said. I got prepped for surgery and off we went. I did very well this time around, if I say so myself. I stayed calm and there were no glitches. Little Guy came screaming into the world at 9:05am Friday, December 26, 2008 weighing
7 lbs. 15.4oz and 19 inches long.
I woke up from the "twilight drug" about an hour later in a lot of pain since I'd opted not to have the stronger drug that made me itch all over. It took some time to get the pain under control, but I was a much happier camper once we did. Little Guy and I met up again in the post partum room.
So, that's about it. Well, mostly. The second night in the hospital, the King found a mouse in my room. That was...um...nice....ICK!!! So, we got upgraded to a better room. I was relieved because the new room was right across from the nursery, and Little Guy was having a hard time with some "boy problems".
I could have stayed until Tuesday, but I so wanted to be home with my kids. I felt like I was missing out on a lot in the hospital since I'd sent the King to spend time with his parents and our kids. So, I came home Sunday.
It's all been a little overwhelming, but I think we'll get it together soon. Once the big guys are back in school, things will begin to fall back into a routine I'm used to. There is always a little adjustment time required when a new baby comes home, and this time is no different.
Number One, The Beast, and Pretty are all in love with their new brother. Pretty thinks she just got a new baby doll and gets deeply offended if I try to take him out of her arms. Silly girl. The Beast wants to pet him all the time. I have explained to him that he's a baby, not a puppy. He now walks around explaining to everyone that we don't pet Little Guy because he's not a puppy. Snort hasn't even seemed to notice that there is someone new in the house.
I have to say this; I had no idea I even wanted to have another baby this soon. Little Guy was a total and complete shock to us all. But I'm completely in love. I can't imagine our family without him. What better Christmas gift than to be given our very own angel straight from Heaven.